The Penalty Spot Blog – Kindred Spirits and a Glimpse of the Future
It was moving and gratifying in equal measure to witness the scenes at Athletic Bilbao's San Mamés stadium as the Basque club bestowed upon Billy McNeill the fifth (appropriately enough) of its "One Club Man" awards.  Cesar treads in the footsteps of Matt Le Tissier, Paolo Maldini, Sepp Maier and Carlos Puyol.  Rarefied company indeed! Perhaps Paul McStay, who walked the Premiership trophy into Paradise this weekend, will be similarly honoured one day.
Athletic Club's decision to make the award was a classy one but I was struck even more by the manner in which the club's fans embraced the occasion. Over 40,000 of them provided a rendition of You'll Never Walk Alone worthy of Celtic Park on a European night and offered thunderous applause to John Clark and Billy's daughter Susan as they strode onto the pitch to accept the award on our former Captain's behalf. Rare are supporters who acknowledge quite so generously the career and achievements of someone with no prior connection with their club.
But perhaps I shouldn't have been surprised. Athletic Bilbao, like Celtic, is a unique club. Perhaps those lining the pews of a stadium known as The Cathedral recognised kindred spirits in Billy McNeill and Celtic. I have certainly admired and identified with Athletic Club from afar for over thirty years.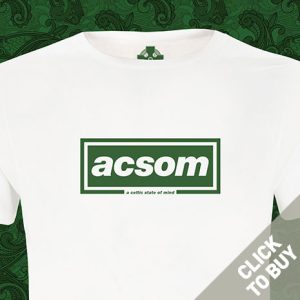 Los Leones first entered my consciousness in October 1983 when they played Liverpool in the European Cup (as it then was). Newspapers in the run up to the two-legged tie were full of scare stories about Andoni Goicochea, the so-called Butcher of Bilbao and a man who had broken Diego Maradona's ankle a month or so before. It turned out that Goicochea's bark was worse than his bite, against Liverpool at any rate, as the Reds marched on to what would be their fourth European Cup later that season, but my interest in their adversaries had been piqued.
Founded in 1898 after the merger of two other clubs whose origins were strongly influenced by local British workers, the Athletic Club of Bilbao borrowed the red and white stripes of Southampton as its club colours and is one of only three founder members of Spain's top flight never to have been relegated (the other two are not difficult to guess).
More remarkably, Athletic Club has, since its foundation, exclusively fielded players born or raised in the Basque country, or players of Basque descent. It is a model unique in Europe and one that appears to be an anachronism. By selecting from such a small population (the Basque country is home to only 3.6 million people), the club is operating under a huge self-imposed handicap yet it continues to prosper in La Liga, qualified for the Champions League Group stages as recently as 2014/15 and is there or thereabouts in terms of Europa League qualification every season.
Those in the know regard Athletic's selection policy not as a handicap but as the cornerstone of its success. Former Athletic goalkeeper Gorka Iraizoz says: "We're all from similar backgrounds and we all know what it means to defend the honour of Athletic." Yes, but surely there must be more to it than that for a club obliged to trawl such limited waters? José-Maria Amorrortu was Director of Player Recruitment and Youth Development at the San Mamés but he says: "My focus was on development, not recruitment from outside. We have an agreement with all of the clubs in Biscay (one of three regions that make up the Basque Country along with Guipuscoa and Alava). Of the 215 kids in the Athletic Academy, 190 are from Biscay and most of the rest from Alava but none are from Guipuscoa because that's Real Sociedad's patch."
It is this competition for the best young talent in the Basque Country that makes Athletic's achievements all the more startling. With Osasuna promoted for next season, there will be no fewer than five Basque clubs in La Liga: Osasuna, Alavés and Eibar as well as Athletic and Real Sociedad. Only Athletic practice the strict "Basques-only" recruitment policy but all are fighting for the same talent and all are run along similar self-sustaining lines with feeder clubs thrown out across the parts of the Basque Country in which the parent club wields influence.
Rather than pondering how Athletic and the other Basque sides in La Liga manage to punch above their weight quite so consistently, perhaps other clubs – Celtic included – should simply take a leaf out of their book. In these cosmopolitan times, no one would seriously suggest that Celtic should scout only, say, Scotland and Ireland for talent (life is difficult enough) but sometimes the answer to on-field problems might be closer to hand than we think. I have just seen Mikey Johnston net a brace for the Hoops to see off Hearts. Given the right support and with careful nurturing, he should develop into a top talent. In the same game, Ewan Henderson acquitted himself well in midfield, Anthony Ralston filled in capably enough at right-back and Karamoko Dembele had a transformative effect on the entire team when introduced as a substitute at half-time. Armstong Oko-flex, Daniel Church and Stephen Welsh warmed the bench.
They say that no man is a prophet in his own land, and at Celtic the pressure is on to win every game, every week. But we seem to have a number of perennial reserve team players. If the kids are given insufficient opportunity, how can we know for sure what they can offer? Lenny described Dembele's debut as a "glimpse of the future". Having seen what he has to offer, many Celtic fans would say that the future is now.
David Sleight
Listen to the award-winning A Celtic State of Mind podcast