ACSOM's Cult Hero XI has caused quite a stir since it was launched last week…
What is a cult hero, anyway? That seems to be an entire debate in itself.
Here is the line-up as it stands:
1. Artur Boruc
2. Enrico Annoni
3. Stéphane Mahé
4. Bobo Balde
5. Ramon Vega
6. Lubo Moravcik
7. Shunsuke Nakamura
With seven jerseys claimed, we still don't have a single Scotsman in the side, but will all that change with the next public vote?
The question tonight is: Who should partner Lubo in the centre of midfield?
Here, Colin Watt brings you ACSOM team's nominations for the magical 8. Who have we missed out? Let us know!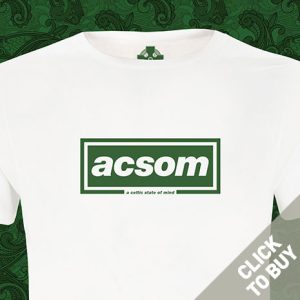 Colin Watt's Cult Celt – John Collins
Signed From – Hibs (£1m – 1990)
Appearances – 229 appearances – 47 goals
 
Cult Hero Status – During the dark days of the early 1990s, there were few bright moments, and even fewer bright players. Amongst the exceptions to the rule was John Collins, a Celtic fan as a boy who grew up in the Borders before starring for Hibs in their midfield.
The classy player caught the eye of both sides of the Old Firm with Rangers trying to snatch him from under Celtic's nose. When Collins chose to come to Celtic from Easter Road, he became the club's first million-pound signing.
In April 1994, Collins became the first professional footballer using Predator boots to score a goal in a top-level match: he scored the opening goal of a 1–1 draw at Ibrox against Rangers, direct from a free-kick on the edge of the penalty box. Collins returned under Ronnie Deila as assistant manager and can often be seen around Parkhead – a great candidate for the Cult Hero XI.
 
Stephen Cameron's Cult Celt – George Connelly
Signed From – Tulliallan Juniors (1966)
Appearances – 254 Appearances – 16 goals
 
Cult Hero Moment – Part of the famous 'Quality Street Gang', Connelly was a cult hero before he had even kicked a ball for Celtic. On 12 January 1966, aged just 16, the Fifer was sent on to the Parkhead pitch by Jock Stein just before the start of the European Cup Winners' Cup quarter-final first leg against Dynamo Kiev. Connelly is said to have thrilled the crowd with an astonishing display of keepie-uppie – dancing around the ground while keeping the ball off the turf – his average at this art was said to be 2,000 non-stop.
A great career at the club followed with arguably his finest appearance being the 1970 European Cup semi-final, as Connelly scored the winning goal at Elland Road to help Celtic towards their second European Cup final.
A number of issues shortened Connelly's time at the club and, had it not been for those, we could be including George within the Greatest XI as well as the Cult Hero XI.
Paul John Dykes' Cult Celt – Tommy Gravesen
Signed From – Real Madrid (£2m – 2007)
Appearances – 29 appearances – 6 goals
 
Cult Hero Status – Thomas Gravesen was bought from Real Madrid as the biggest buy of the season for Gordon Strachan to help whet the appetite for the fans.
Alongside other buys like Jiri Jarosik, the big Dane was expected to fit in well and provide the steel and determination to take Celtic's first-team further than they had before in the current era.
He was never awful, and he has a place in the hearts of some Celtic fans having scored twice against Rangers (in two separate games), but he was never a consistent performer.
Too many times he seemed to just play his own game, running about like a headless chicken and damaging the structure of the team's formation. The best example of this came in the last Celtic v Rangers game of season 2006/07 in which Celtic were embarrassingly outplayed, and Gravesen was just running aimlessly everywhere.
He had his moments, with the aforementioned goals against Rangers, but possibly his best was when he drove a lackadaisical Celtic side to victory against St Mirren by scoring a hat-trick. He had great performances in his locker, but Celtic fans didn't see them often enough.
He ended up either left out or benched for a number of games by Strachan, and he was eventually released from his contract in August 2008 after Everton decided to neither buy him permanently nor roll on the loan period. Celtic had to settle up a reputed £1million to terminate Tommy's contract and he subsequently retired from football in January 2009 after failing to find a new permanent contract with a club.
The "Mad Dane" is still fondly talked about by ex-team-mates, especially on the Open Goal podcast series with stories of his fondness of playing pool to taking the reserves to see the new Spiderman film – and, no, it wasn't optional.
Now a multi-millionaire, Gravesen has been questionably more successful off the pitch that on it, but is still a true Celtic Cult Hero.
 
Declan McConville's Cult Celt – Joe Ledley
Signed From – Cardiff (Free – 2010)
Appearances – 157 appearances 30 goals
 
Cult Hero Status – A bargain signing from Cardiff City as part of the Neil Lennon revolution, Ledley went on to have an incredible impact on the Celtic side. Scoring important goals, driving the midfield and mostly doing it without great applause or praise.
It wasn't until the end of 2011 that he truly made his mark, when Ledley played a blinder against Rangers on 28 December 2011 in an important game that took Celtic to the top of the league. He scored the winner in a 1-0 victory in howling winds, a header from a corner to make himself a hero. His overall play in the game was outstanding and was increasingly a favourite of the support and a mainstay of the first-team.
He left Glasgow having scored in his last game for Celtic – a 4-0 win over Kilmarnock – and he won the man-of-the-match award in the game, so left on a high note with a fine performance. The Welshman was a good professional and a true Cult Hero.
The Cult Hero series is being brought to you by Colin Watt.
Listen to the award-winning A Celtic State of Mind podcast