Often said to be the beating heart of the team, the centre-midfield position has produced some incredible Celtic greats over the years from the Maestro Paul McStay to our current captain, Scott Brown.
 
Whilst today's selections aren't held in the same regard as McStay or Broony, they, too, offered incredible moments of happiness to the Celtic fanbase and left memories of what could have been had they been signed earlier or avoided injury. So here we go, over the next two days, with the ASCOM team's picks for Celtic's cult hero centre midfield.
Which players have we missed out? Let us know!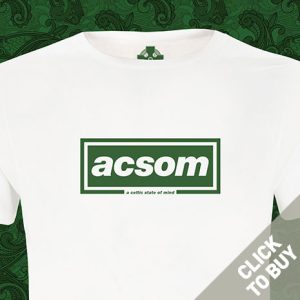 Colin Watt
 
Player – Lubo Moravcik
Signed From – Duisburg (£300k – 1998)
Appearances – 129 appearances – 35 goals
 
Cult Hero Status – At the time, Hugh Keevins wrote in his Sunday Mail column: "I don't know what I find more laughable – the fact that Celtic cannot find £500,000 from their biscuit tin to sign a proven talent like John Spencer, or the fact that they then spent £300,000 on one of Dr Jo's old pals, the unknown Lubomir Moravcik." And how wrong could auld Shug have been?
The man would soon be known as "A Gift From God", and the only downside about Lubo's Celtic career is that he didn't sign earlier! An absolute magician in midfield playing in a number of roles, the central position suited him best. It was from this position where he scored doubles against Rangers on a few occasions.
Celtic won the treble in 2001 and the next season – Lubo's last in the Hoops – retained the league as Moravcik finally had a chance to parade his skills on the biggest stage – the Champions League. He didn't disappoint but even he couldn't prevent Celtic's unlucky exit from the group stage. Even the most impressive of statistics can never do justice to the skills of Moravcik. He was a joy to watch and the memory of his performances will live long in the minds of the Celtic support.
 
Stephen Cameron
 
Player – Victor Davidson
Signed From – Glasgow United (Free – 1967)
Appearances – 66 appearances – 24 goals
 
Cult Hero Status – Vic was part of the excellent crop of young players Jock Stein brought through in the late ' 60's and early '70's and much was expected of him. Impressive performances for the reserves with fellow strikers Dalglish and Macari saw the young goal-scoring midfielder earn a glowing reputation and he made a scoring debut when he netted in a 3-2 league win at St Mirren on 18 April 1970.
Stein threw him on against Ajax in the European Cup quarter-final on 24 March 1971 and he played in the Scottish Cup semi final against Airdrie in a 3-3 draw, Dalglish replacing him in the replay.
Between 25 March and 8 April 1972, he scored four goals in three games and at last it looked as if he would fulfill his potential. The truth is that, despite the great training, he simply was below par compared to his contermporaries in the Celtic first XI.
Many of those who trained with him have spoken well of his talent, but on the pitch it was little well proven. He did put in many good performances but wasn't deemed to be consistent enough, although his scoring record does show a fair enough return ratio.
 
Paul John Dykes
 
Player – Massimo Donati
Signed From – AC Milan (£3m – 2007)
Appearances – 54 appearances – 5 goals
 
Cult Hero Status – The Italian central midfielder signed a four-year deal with the Hoops and was handed the Number 18 shirt previously filled by former club captain Neil Lennon.
Donati had cost Milan £10 million when he signed from Atalanta in 2001. However, his career at the San Siro had stalled and he spent much of his time out on loan, including season 2006/07 when he returned to Atalanta.
Donati's early form was good and his neat passing and vision saw him make a positive early impression on the support. He would seal this pleasing start to his Parkhead career with the equalising goal at Aberdeen on August 19th as Celtic came from behind to win 3-1.
Donati will most likely be remembered for his winning goal against Shakhtar Donetsk, zwhich took the Bhoys into the last 16 of the Champions League in what was another memorable night in Paradise.
 
Declan McConville
 
Player – Pat Stanton
Signed From – Hibs (Swap – 1976)
Appearances – 44 appearances – 0 goals
 
Cult Hero Status – Pat Stanton was a Hibernian legend when he signed for the Bhoys in a shock swap deal in September 1976 with Celtic's Jackie McNamara (snr) moving in the opposite direction.
Stanton was a class performer and his quality and experience would prove invaluable to a young Celtic side desperately struggling to reach the standards and expectations set by the Lisbon Lions.
Leading by example, Stanton encouraged the Bhoys to play a confident passing game. Suddenly players who had struggled just months before were turning in accomplished performances. The Bhoys won back the championship, ironically won at Easter Road, and the then Hibs chairman Tom Hart banned the television cameras from filming that day and it was felt he was still smarting from Stanton's loss. Joe Craig scored the winner in a 1-0 win.
Celtic then underlined their domestic dominance by completing a League and Scottish Cup double and, with a 1-0 victory over Rangers at Hampden, Pat now had a full set of domestic medals. Unfortunately, a knee injury cost Celtic more of Stanton's talent and he had to retire early.
The Cult Hero series is being brought to you by Colin Watt.
Listen to the award-winning A Celtic State of Mind podcast