Having selected our goalkeeper and back four, we now delve into the midfield and an important part of the jigsaw – the right-midfielder.
 
Over the years, Celtic have had a plethora of great players in this position, none more so than the greatest ever Celt – Jimmy Johnstone. Whilst these selections didn't come close to matching the great skill of Jinky – they gave their all for the Hoops and are instrumental in some important moments in Celtic's history, either scoring or assisting or even just signing….
 
Today's selections range from bargain basement signings to world-class free-kick masters, as we start building the midfield. So here we go with the ASCOM team's picks for Celtic's cult hero right-midfielder.
Which players have we missed out? Let us know!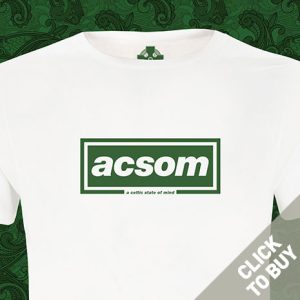 Colin Watt
 
Player – Didier Agathe
Signed From – Hibs (£50k – 2000)
Appearances – 181 appearances – 11 goals
 
Cult Hero Status – Funnily, in a movie shot in Scotland called 'A Shot at Glory' (straight to video rubbish) Agathe appeared in the film as a Rangers player but let's not take that away from the brilliance of his play.
Signed for only £50k from Hibs, Agathe was a speed demon! Usain Bolt would struggle to keep up with Didier Agathe on a good day, but the problem was at times both of them could provide the same quality of cross. It was certainly a weakness with Agathe's game that his consistency of crosses was erratic at best.
Agathe played in a wing-back position as part of O'Neill's 3-5-2 formation, but was certainly more effective going forward than defending, which is why he fits in here in right-midfield.
Agathe was instrumental in Celtic's 3-0 victory in the Amsterdam Arena when Celtic beat Ajax to qualify for the Champions League Group Stages for the first time and for that he is a certain candidate for the Cult Hero XI.
 
Stephen Cameron
 
Player – Shunsuke Nakamura
Signed From – Reggina (£2.5m – 2005)
Appearances – 166 appearances – 33 goals
 
Cult Hero Status – When he was on his game, Naka was a gem in the midfield but when he wasn't, he was a man down – probably the most common feedback Celtic fans would give you on the career of Shunsuke Nakamura.
An absolute wizard with his left foot, Naka produced many moments of brilliance to qualify him for this Cult XI. Outside the obvious free-kick versus Manchester United you have, the "Squiggler" goal against Rangers, his hat-trick at Tannadice or any of the goals against Kilmarnock at Rugby Park.
Dubbed the "Japanese David Beckham" – Naka was an absolute fans' favourite at Celtic and he earned the club several times his transfer value in European money and shirt sales from Japan. The club website even had to be translated into Japanese for the number of visits it was getting from the Far East. Perhaps underrated by some, Nakamura is the ideal candidate for this XI.
 
Paul John Dykes
 
Player – Willie Falconer
Signed From – Sheffield United (£350k – 1994)
Appearances – 46 appearances – 6 goals
 
Cult Hero Status – A very interesting signing in Celtic's history, Willie Falconer proved to be an unwitting catalyst in the downfall of the old board, as the bank's decision not to honour the first instalment of Falconer's £350,000 fee triggered the resignations of directors David Smith and Chris White from the Celtic board.
Falconer was deployed in several positions across midfield and forward, but for this selection Falconer is our right-midfielder.
As a player, Falconer found his most productive form as a hard-working foil for the more glamorous Pierre Van Hooijdonk in the Scottish Cup run of 1995, scoring against Meadowbank Thistle, and then crucially in the semi-final replay versus Hibs to help Celtic through to the final.
Falconer's Celtic career was short-lived, and he went on to play for Motherwell and Dundee amongst others. Few could say that Falconer didn't give his all for the club, and his involvement in Celtic's history books, whilst maybe relatively unknown, should never be underappreciated.
 
Declan McConville
 
Player – Stevie Murray
Signed From – Aberdeen (£50k – 1973)
Appearances – 101 appearances – 1 goal
 
Cult Hero Status – Hard-running Steve Murray was a mobile right-midfielder whose Celtic career was sadly cut short by injuries.
Bobby Murdoch's departure to Middlesbrough in September 1973 paved the way for Murray to take over Bobby's role in the centre of Celtic's midfield. It is said that Jock Stein wanted a more mobile midfield for the modern game of the 1970's and Steve blended in superbly with his midfield associates Davie Hay and Tommy Callaghan.
Arguably Murray's greatest moment in a Celtic jersey came in the 1974 European Cup quarter final against Basle. In the 98th minute, Harry Hood superbly turned at the bye-line and chipped a ball across goal. Jimmy Johnstone met it at the back post and headed the ball back to Murray and he sent a clever header looping high over the despairing goalkeeper. The 71,000 crowd in the ground exploded with joy as this was the winning goal bringing back memories of the winner against Vojvodina seven years previously.
Steve had problems with a toe injury throughout 1975 and, in the summer, it was announced that he would retire as the damage was too severe to carry on.
He was badly missed and Celtic's inconsistent form in 1975/76 was partly down to his absence. However he made a return in the new year after further treatment, replacing Roddy MacDonald as sub on 3 January in a 3-3 home draw. He further played in the fine away wins over Motherwell and St Johnstone, by 3-1 and 4-3 respectively, but a broken bone in his foot, which occurred in training, finally forced him out of the Celtic first XI for good. It was a huge disappointment to lose such a capable player and it took Celtic a long time to replace him.
The Cult Hero series is being brought to you by Colin Watt.
Listen to the award-winning A Celtic State of Mind podcast