Billy McNeill was a fierce competitor but, despite that, remained a true sportsman… as this excerpt suggests. It comes from Eric Weill's match report on the flawed World Club Championship series in 1967. Eric Weill was the principal football writer for The Buenos Aires Herald (an English-language newspaper in the Argentine capital city). His report ends with the words of Roberto Perfumo, Racing's right-back and much-capped Argentine internationalist.
"On reaching the tunnel I saw him come towards me slowly, the blond chap (McNeill) who had scored against us in Glasgow. I looked him in the eyes and instinctively put myself on guard… perhaps because of all that had happened during the game. He held out his hand, and I had to grip it tight. He intimated that he wanted to exchange jerseys with me, and it was then that I couldn't stop the tears coming to my eyes, not for me but for him. I thought of how sad that moment must be, how I would have felt if that title had slipped out of my hands. McNeill's face showed no emotion and I thought I almost detected a smile.
"All the ugly things we and they did during the game seemed to be forgotten. I pulled off my jersey – a chance to wipe the tears. The exchange was made. I hugged him and said (in Spanish), 'This is how football should be.' He smiled and said in perfect Spanish, 'Buena suerte, Buena suerte (Good luck).'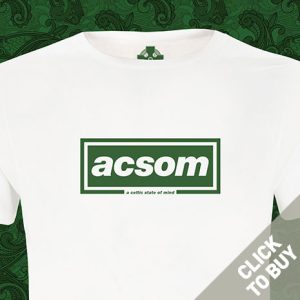 "I don't know if we will meet again. Perhaps in the World Cup at Mexico, or some future Club Championship final, a happier occasion, I hope… but I'll never forget his gesture in the middle of the sadness he must have felt, a sadness which could so easily have been mine. How sad it must be to travel home, beaten and disgraced. I rushed down the tunnel and held that green-and-white Celtic jersey tightly to me. I didn't want anybody pulling it out of my hands in the general commotion down there. It was my most treasured moment of this World Championship which had been played to the death.
"What a nice guy that McNeill must be!"
Roberto, like Billy McNeill, was highly respected by everybody within football. He had been disappointed by the events in the 1967 World Club Championship between Racing and Celtic, and went so far as recommending that Racing refrain from displaying the trophy in their board-room afterwards.
After a glittering international career during which he was capped 37 times, Roberto Perfumo became a highly respected TV sports commentator. Sadly, he died suddenly in 2016 at the age of 73, having suffered an aneurysm while dining out in Buenos Aires.
Tom Campbell
Listen to the award-winning A Celtic State of Mind podcast