"To tell the truth, not just to be first."
According to multi-Oscar-winning actor, Denzel Washington, this should be the raison d'être of the media.
The Hollywood A-lister should know, having been a leading light in the notoriously ruthless movie business for over 40 years.
Washington was at a red carpet event a few years back when he delivered this impromptu, rousing affirmation on the fundamental responsibility of the media. In dismissing dishonesty and fake news within the industry, the star of such classics of the silver screen as American Gangster, Malcolm X and Training Day continued:
"What is the long-term effect of too much information? One of the effects is the need to be first, not even to be true anymore.
"Get it out there. We don't care who it hurts, we don't care who we destroy, we don't care if it's true. Just sell it."
Denzel's "truth" message is not reserved solely for Tinseltown hacks, or even the far-less glamorous world inhabited by Scottish journalists, it applies to all forms of media – mainstream and alternative.
Celtic fans are extremely well served by the latter, where an abundance of talented content creators often produce outstanding material. In the last week alone, 20-Minute Tims have sought out and interviewed ex-manager, Ronnie Deila, while 90-Minute Cynics have done likewise with former midfielder, Liam Henderson. Such was the endeavour of these two podcasts in securing their exclusives from Norway and Italy respectively that their interviews have been reproduced by several mainstream news outlets.
If we accept that the welcome progression of alternative media makes it a legitimate source for its major league counterparts, and if fan media figures are bestowed with an invitation to attend press conferences alongside the Scottish tabloid glitterati, then we must also expect the fans who create this content to obey by at least some of the fundamental responsibilities of the field, which is where Denzel Washington's truth speech becomes relevant.
This article is by no means a sanctimonious diatribe on the dos and don'ts of alternative media, and is certainly not aimed at the two aforementioned podcasts, who are, in my view, a credit to the Celtic support they aim to serve. It is, however, partly prompted by comments made recently in a sometimes football-related 'blog', which I'll come back to later.
Back in December 2015, calls were being vehemently made for the head of then Celtic manager and subject of this week's 20-Minute Tims' pod, Ronnie Deila. In his second season in Glasgow, Celtic had swiftly crashed out of the Champions League qualifiers and the Europa League. The embarrassing scenes in Deila's homeland during a disastrous defeat against Molde, where an animated Kris Commons berated the management team in front of a live TV audience after being substituted, were the clearest indication of all that the Norwegian's tenure wouldn't last beyond the season.
"It's about getting clicks on the internet and it's about selling newspapers," explained Deila in response to calls for his sacking two months after the Molde debacle following a league defeat to Motherwell on 19 December 2015, which left his Celtic side just one point ahead of Aberdeen. "There are hundreds of media and everybody needs a story and everybody gets caught into this and it affects everything."
Deila's comments were undoubtedly being fired at the 'click-bait' fake news culture that had been bastard-born from the dubious and incestuous union of plummeting print sales and the necessity to generate online ad-revenue. It is a toxic mix which leads to the damaging attitude of getting a story out there without any due consideration of its accuracy, of who it hurts, or who it destroys.
Nearly three years later, Celtic and Deila had amicably parted ways, and Brendan Rodgers had gone on to lead the club to two trebles on the bounce. But, by the evening of Sunday, 23 September 2018, there were major concerns surrounding Rodgers' future after a series of well-publicised internal upheavals culminated in Celtic's exit at the Champions League qualifying stage, as well as two defeats and one draw in his first six league games.
A Celtic State of Mind wrote an opinion piece at that time, as there was a genuine belief that Rodgers may have been on the verge of leaving the club following player revolts and a lack of summer transfer activity:
"The Rodgers-inspired group of winners of the first two seasons under his tutelage were something to behold. Their style and the success of the team were an irresistible elixir, guaranteed to induce total devotion to the manager and his coaching staff.
"Back when we were in the throes of his arrival, fresh approach and success, he was infallible… he was untouchable. He always came across as having a clear vision. We all believed in him.
"That has now all changed and his reaction to what is happening is curious. It's like he knows in his own mind that he doesn't want to be here anymore (probably due to the breakdown of his relationship with Peter Lawwell). His body language speaks volumes. He's here but doesn't have (nor does he instil) the belief that he did before.
"Despite the oft-quoted saying that football fans are fickle, there is a constant about Celtic fans that remains. They will always give a player or manager or coaching staff every encouragement up to the point (and sometimes beyond) where they sense that the troupers in this sporting theatre are not giving 100% to their performance.
"…Brendan will not be given the time to 'work his ticket' if that is, as many seem to suspect, what we are witnessing just now.
"Intriguing times. A test of character for Brendan Rodgers and, in many respects, of the Celtic fanbase.
"We, as a team, are floundering and we are in worrying times. Now is the test of a true leader."
Six months on and these words seem eerily prophetic, but the author of that piece had no inside knowledge, he was just joining up the dots. For what it was worth, your hapless correspondent followed this article up with my own take on the curious change of mood surrounding Rodgers:
"Brendan Rodgers' first two seasons were his 'Definitely Maybe' and 'Morning Glory'. Like 'Be Here Now', his third effort will produce a few memorable moments and will still get to number one… but someone has driven the Roller into the swimming pool."
As we all know, we never got the opportunity to see if Rodgers' very own difficult third album got to number one, because he inexplicably walked out on Celtic a potential 13 games away from a hitherto-unimaginable treble treble.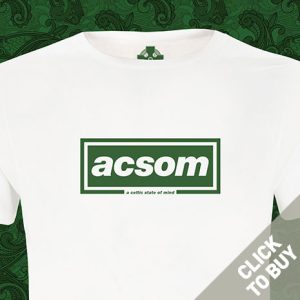 Kevin Graham and I discussed the news that sent shockwaves through Scottish football in our '48 hours that shook Celtic' ACSOM podcast, and it was during this episode that we disclosed information that had been mentioned to us back in January.
While covering FansBet's Star Sixes tournament at the Glasgow Hydro, former Celt, Alan 'Rambo' McInally, informed us off-camera that Brendan Rodgers had already agreed to go to Leicester City at the end of the season. The reasons for ACSOM not disclosing this information at the time seemed fairly obvious to us. It was hearsay at best and industry gossip at worst. Entirely unconfirmed.
Described as an "open secret" by Rambo, had we mentioned it on our podcast in the immediate aftermath, it would have held as much weight and credibility as Kris Boyd's comments earlier this season about there being a split in the Celtic dressing-room.
Only when Rodgers left could Rambo's information be classed as confirmed, and even then he left earlier than suggested.
From the earliest days of research for my first book back in 2010, I realised that interviewing ex-footballers often provides more information than would ever be expected. I quickly figured out that, simply unearthing a story doesn't give the person in possession of a dictaphone the unquestionable right to use the recordings.
One recent example of this was when Danny McGrain disclosed in January that the now infamous Brendan Rodgers' training ground story was not true. ACSOM didn't feel it was appropriate to pitch two club employees against each other for the sake of online clicks. This story only rose to the surface upon Rodgers' untimely departure the following month.
Just by having this information didn't give ACSOM the right to broadcast it. We place a huge emphasis on who this type of coverage could hurt, and we won't use anything that has the potential to do so to the person involved, particularly if it hasn't been confirmed as being true.
The information gleaned from Danny McGrain was confirmed directly from source as it happens, and wasn't fanciful rumour, but it could have caused him some distress or unwanted press intrusion had I published or broadcast it at the material time. For that reason I decided not to.
The worst example in recent times of sharing unconfirmed information was undoubtedly the viral and deeply upsetting news surrounding the health of Celtic's greatest leader, Billy McNeill. The fact that Billy's family were driven to deny these rumours through the platform of an official club statement is nothing short of disgraceful.
On the back of us eventually discussing Rambo's earlier disclosure, and only after Rodgers had departed, ACSOM – specifically yours truly – received heavy criticism on two occasions on a 'blog' written by 'John James'.
It would appear that James is happy for alternative platforms to trade in the click-bait industry. Why else would this blogger feel so compelled to levy his wrath at my doorstep for refusing to be part of this charade?
I don't have an issue with anyone disagreeing with me, in fact I wholly welcome a healthy debate, but a serious note of caution to anyone engaging with this obscure blogger is the sheer inaccuracy of the second article.
James claimed that I have, "forged an access all areas relationship with Celtic." He went on to state, "Mr Dykes was not prepared to tell tales out of school. Given the choice of an exclusive and the concomitant end of his special relationship, he unsurprisingly packed away his microphone until it was public knowledge."
Access all areas? Special relationship? Anyone who knows me will realise that these claims are wild fabrications, and it brings into question everything this delusional blogger has ever claimed – with some authority – to be fact.
A Celtic State of Mind is in the business of creating original content for the enjoyment of fans of our club. We do this primarily through our podcast, but the recent addition of a sponsor will allow us to expand our output into video and written content. We are currently building our own website for the purposes of housing all of our work under one roof.
Not everyone will agree with what we do and how we do it, but we will always approach the creation of content with the ultimate aim of it being bespoke and being true. We will never exploit an unconfirmed story for the sake of clicks.
As Denzel Washington poignantly proclaimed, the most important factor in the pursuit of a story is, "To tell the truth, not just to be first."
As there is a clear movie theme running through this piece (with me name-checking Denzel and Rambo), I felt that it would only be fitting for me to end by sharing a short clip of film for the benefit of Mr James:
Paul John Dykes
Listen to the award-winning A Celtic State of Mind podcast