The deluge of opinion from the self-anointed spokesmen and women of social media has seen us inhabit a negative space in a situation that is anything but negative. Getting beat is part of football but we always want a perception of effort and we can argue whether we had that last week.
Neil Lennon said we played with "the handbrake on" and that he was planning on changing the team around this weekend. Again, like last week we are faced with a game that is just fulfilling fixtures until we knuckle down and prepare for the Scottish cup final.
These trophy days are strange affairs where we are all just waiting for the fireworks and laps of honour. A thank you to these special set of lads who this season have overcome the most challenging of situations that have all come from within. We need to show appreciation for their efforts. Sometimes we think they should do better, sometimes we want them replaced but we can't deny that they have been special to us over the last few seasons.
It seems that being mentally and physically fatigued is not an excuse for those who have never played the game but it's one that managers and players have spoken about at great length. I'll take their expert word for it. It's a fine balance and one that we may fail in again but I look forward to seeing some fresh faces if not a coherent performance and flowing football.
With that in mind, I will predict a Celtic 2-0 victory with Ewan Henderson scoring.
Kevin Graham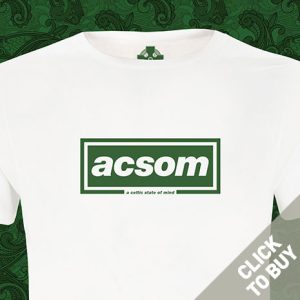 After a long and interesting season, we come to the point where the best team in Scotland once again lifts the trophy up high and on Sunday around 5pm, Scott Brown will lift Celtic's 8th and probably most difficult, consecutive league title. End of season affairs can be either great – Motherwell 7-0 or terrible – Aberdeen 1-0, Hearts 3-1 are recent examples that spring to mind.
This could also be Lennon's farewell in front of a capacity Celtic Park and rightly so he should be given a proper thank you from the fans for taking over and guiding the team to the title. With the Scottish Cup Final the more important of the two ties vs Hearts, I think there will also be some fringe players making their farewells alongside some youngsters getting the chance to stake a place in next season's squad.
I'm hoping to see players like Oko-Flex, Dembele, Deas, Henderson involved alongside the loan players of Burke, Toljan and Benkovic. Hearts recent form is extremely poor with only 4 wins since the Winter Break and I believe they will also rest players for the final which should make the game interesting.
I'm going for Celtic to win 4-2 with Johnston scoring anytime (or Oko-Flex if selected)
Colin Watt
Our ACSOM Fansbet bet is below. Click the link to sign up, choose Celtic and then ACSOM to help Celtic fan causes. We now sponsor the Celtic Fitba Greats side and support their charitable donations. Watch the video below.  
Trophy day at Celtic Park is always a great occasion for all the supporters. Neil Lennon's priority will be to get past this game and turn all attention towards the Scottish Cup Final.
I imagine that both sides might mix the teams up to give some fringe players a run out and to avoid injuries for the following week. If this is to be Lenny's last game in charge at home he will want to leave in style and make sure that the players have picked themselves up from a poor performance at Ibrox.
My prediction is for Celtic to win the game 2-0 and for Scott Sinclair to score.
Declan McConville
Listen to the award-winning A Celtic State of Mind podcast