Looking to your left, you see the Albanian leader, Rudi Vata. The asylum seeker who fled the country of his birth for France while on international duty. This is the figure who signed for Liam Brady's Celtic and was paraded alongside record signing Stuart Slater in 1992, but it was Vata who would become the cult hero. Chest out and hair combed to perfection, Vata is every inch the talisman of this changing room.
To your right is Bobby Petta, still buzzing from his DJ set the previous night. A skilful operator, who has settled into an unfamiliar left-back role in his advancing years.
A gallery of ex-Celts, this dressing-room also boasts Hollywood actors, politicians, musicians, comedians, podcasters and authors. This cornucopia of talent all have one thing in common – A Celtic State of Mind.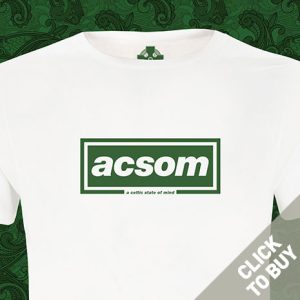 The prelude to this encounter against a motley crew of ex-Rangers players can create an engulfing air of tension. Many minds have been swamped, many legs weakened, in this unforgiving lair where Corinthians dwell and the deified prepare. Just outside, through a narrow corridor, awaits the raucous and demanding inhabitants of Kilbirnie Park. Precious few are able to make the short journey, where liniment and expectation fill the air, on to that hallowed turf without leaving something behind.
Manager, Frank McGarvey, has been there, knows what it takes to succeed, and has witnessed careers unravel in the minutes before a whistle is blown.
A Celtic State of Mind are proud to sponsor the Celtic Greats. If you want to pull on the iconic green-and-white jersey, get a team-talk from Frank McGarvey, and be part of the inner sanctum of the huddle with the likes of Bobby Petta, Simon Donnelly, Rudi Vata, Mark Wilson, Didier Agathe and Craig Beattie then get in touch and let us know.
The jerseys may not shrink to fit inferior players, but, fortunately, they do stretch.
Paul John Dykes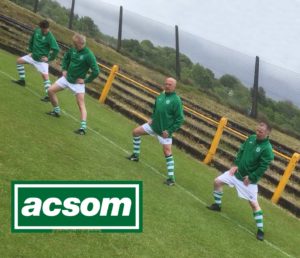 Listen to the award-winning A Celtic State of Mind podcast