A Celtic State of Mind have always embraced the club's love affair with music, and this has resulted in us recording four acoustic sessions over the last two years. All 14 tracks are now available on this week's ACSOM podcast, 'Acoustic Sessions: Volume 1'.
LIAM MCGRANDLES, who will be well known to many who frequent the Kerrydale on matchday, now has two albums under his belt. His recent impromptu duets with Rod Stewart and Scott Brown undoubtedly took the Denny native to an even wider audience, but the level-headed 'Roughcast and Rain' singer will typically take this increased popularity in his stride.
Liam performed the following four tracks for us:
* Streets of New York
* Roughcast & Rain
* The White & The Green
* The John Thomson Song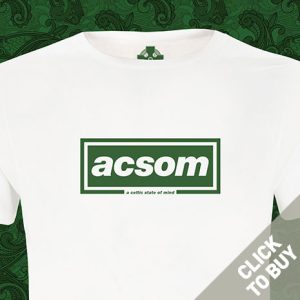 KEVIN MILES rose to prominence in Celtic circles following the release of his Celtic FC Foundation single in 2017. 'Celtic, My Heart & My Soul' has now crept into songbooks of other Celtic / Irish performers, which is quite astonishing considering it's a fairly new song.
Kevin had previously been signed to Sony as part of Yashin, who split in 2016 after touring with such acts as Papa Roach, Korn and Limp Bizkit.
His four tracks are:
* Celtic, My Heart & My Soul
* Grace
* Allende
* Stand Up
JAMES LAFFERTY, is the former frontman of Stirling rockers The Encierro and the current 'Liam' in Oasis tribute band, Stop The Clocks.
His eclectic three-song set included:
* Dry The Rain
* Aim Higher
* Esconde Mi Mente
DANNY KELLY is the voice of Tir Chonaill, who are steeped in the greatest traditions of The Dubliners, Wolfe Tones, The Fureys and Christy Moore.
Danny's session consisted of:
* Home to Donegal
* Viva la Quinta Brigada
* Celtic, My Heart & My Soul
Tir Chonaill have just released their 10-track LP, Alcoholiday, which can be purchased by sending £10 via PayPal to: Daniel.kelly2102@gmail.com.
A Celtic State of Mind have one copy of Alcoholiday to give away. See Twitter for details!
Paul John Dykes
Listen to the award-winning A Celtic State of Mind podcast