I never noticed Neil Lennon running the length of the touchline to celebrate Odsonne Edouard's winner against Dundee. I was too busy enjoying the dopamine rush of a late important goal. Football evokes emotions and such joyous ones should never be mocked.
We have gotten used to late winners. In our last four league away games we have scored five goals after the 78th minute. Victories against St Johnstone, Kilmarnock, Hearts and Dundee were all stodgy performances but all where one point was turned into three and the focus was on the winning character in the squad.
The mentality to play for Celtic is something that many players never rise to but it's fair to say that the majority of this squad has it. James Forrest and Edouard gave the creative spark and finish at Dens after Scott Brown had intercepted a pass 25 yards from Dundee's goal.
It was the first time we won the ball high up the field and turned Dundee's defensive shape on the transition. Forrest and Edouard still being on the pitch to combine for the goal was a surprise to many and while they had poor performances they still had the mentality not to hide.
"I didn't like the way we played today at times," said our interim manager, and this can be said for most of our away games this season. Defeats to Hearts, Kilmarnock, Hibs and Rangers were all the same side of terrible and the draws against St Mirren, Livingston and Motherwell weren't much better.
We now have the best away record in the league, helped massively by our last four away games, but there is no argument that the only time we have reached this vintage Celtic was in the 6-0 win v St Johnstone, the 5-0 win against Dundee and a fabulous 4-3 against Aberdeen when the scoreline flattered the hosts. There has been very little else for the travelling support to cheer for the money and hours they spend lending their support to the team.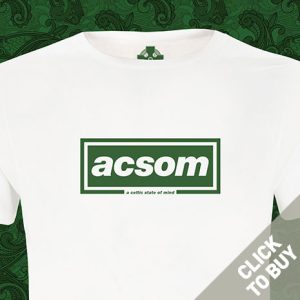 This season has been a struggle away from Celtic Park and this can be traced back to when we failed to refresh the team. Injuries have also played their part along with a natural steady decline of players and a familiarity of playing style for opponents.
Without a Moussa Dembele option we are required to try and play through teams, which we have struggled to do. Edouard has many attributes but he is lost when we try and play him in a Dembele role. Yesterday, and on plenty of previous occasions, his most devastating work is done from deep and wide when he can use his pace.
We are in a situation were our Plan B is try Plan A harder.
"We started to get a little bit desperate towards the end, our final ball is lacking and I thought we were a little bit pedestrian at times," observed Lennon and it's now his job to try and ensure that doesn't happen in our remaining away games. Games that will see if travel to St Mirren, Rangers, Aberdeen and possibly (probably) Hibs.
Lennon has to keep all that was good about Brendan Rodgers' infrastructure and game plans but he now has a massive judgement call to make. It's clear that the plans were failing at times, we are predictable and easy to handle.
The team line-up against Dundee had an 'eye on next season' feel, with only one loan player being used in the starting eleven. Mikey Johnston was trusted to solve the creative problem and he was replaced by Jonny Hayes which raised eyebrows. There were a few shape changes, a feature of Lennon's five games, and we have seen plenty of positional movement with varying success.
It's clear that he realises that improvements can be made. He is trying to add a bit of unpredictability while not changing too much but this hasn't changed performances so far. With ten days until our next game, he and the coaching staff have much to ponder about what he has learned so far and if they wish to change it.
Kevin Graham
Listen to the award-winning A Celtic State of Mind podcast