The Penalty Spot Blog: If winter comes, can spring be far behind?
A three-hour drive, hailstones, horizontal rain, low-temperature lights flashing on my dashboard and a wind blowing in off the North Sea that might cut you in two – yes, it's Pittodrie in early May. And the seemingly ubiquitous Moncler and Canada Goose jackets were much in evidence and much-needed as the Celtic support battled the elements in the north east. It's been a very tough week in Paradise, and weather conditions did nothing to lift spirits but they say that if winter comes, spring cannot be far behind, and neither the team nor the fans had long to wait before hitting sunnier uplands in the Granite City.
Forty minutes to be precise. That was the time it took the Celts to survive a couple of early scares (Aberdeen had only themselves to blame for not taking the lead) and the bold Mika to stick his nut on the end of a CalMac cross to get the title party underway. But much of the first half made for uncomfortable viewing as the Hoops laboured against a depleted home team who, credit where credit is due, gave it a real go.
By the time Big Jozo repeated his heroics from last weekend, celebrations in a sodden South Stand were well underway. The second half was certainly a huge improvement on the first and the Dons were never allowed to threaten once the Celts had doubled their lead.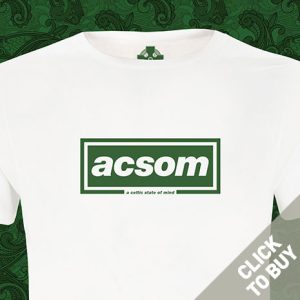 But this was the proverbial curate's egg of a performance: Bain and Broony were immense, the centre-backs were solid, and the crosses and corner kicks supplied were generally of a higher standard than of late. Playing Weah up front did not, on Saturday's evidence, seem to work (Leigh Griffiths, haste ye back) and the wait goes on for Tam Rogic to rediscover his best "twinkle-toes" form. Next Sunday would be a good time to start.
Until his galvanising goal, I thought Lustig looked absolutely shot. He seemed almost to be hirpling as he ran back to his position as the Dons swarmed about in the first half. There is no lack of effort from any of the guys in green and white but most of them have been playing since July – and under constant and enervating pressure to win. Yeah, that's what they get paid to do but, whilst fatigue (mental and physical) doesn't perhaps excuse some of the more torpid displays of late, it does, I think, explain them.
In the euphoria of eight-in-a-row, the travelling support was in full voice. I enjoy "Discoland" – it's daft but it's fun. Less enjoyable was the Derek McInnes song which got an airing in the final half-hour of the game. Needless and embarrassing, it jarred with the otherwise festive atmosphere.
It was interesting to read Lenny's post-match comments in which he referred to "a lot of agitation and discontent around the club" that he had to deal with on his arrival. We all might have guessed that this was the case but I think that is the first time I have seen it so openly and candidly acknowledged by an official source. It was interesting also to hear the manager urging fans to "engage in the moment" and not think too far ahead. He is dead right. Eight-in-a-row (and a 50th league title overall) is an extraordinary achievement and one worth celebrating in its own right. It is hard not to project ahead to July and August but these really are the days; let's live them.
I dropped in on the way home at the second leg of the Highland / Lowland League play-off between Cove Rangers and East Kilbride. Cove have a brand new stadium and an immaculate 3G pitch offering one of the widest playing surfaces I have ever seen. But this was blood and snotters football in the raw. Cove beat Kilby easily enough (3-0 on the day and 5-1 on aggregate) and now face Berwick Rangers in a showdown for a place in League Two. Berwick's Shielfield Park is one of just a handful of Scottish league grounds that I have not visited. A wee trip across the border is a must for me the day before we take on Hearts in a Scottish Cup final dress rehearsal.
David Sleight
Listen to the award-winning A Celtic State of Mind podcast