A little over 20 years after Celtic's glorious night of triumph in Lisbon, I stood on the edge of a building site at the top of Kerrydale Street with my dad. The building behind us had witnessed some iconic moments over the previous 58 years since it was originally complete and our custodians were modernising the old place as part of the club's wider centenary celebrations. The rebuilding process outside the stadium was matched on the pitch as Billy McNeill constructed a team that would deliver a memorable league and cup double in the spring of 1988.
Our visit to Celtic Park was not to inspect the plans of the rebuilding process, instead my dad had arranged for a special visit for me to meet the players and have a look round the stadium. As we waited outside, I could see my dad's eyes light up as a well-dressed gentleman approached us.
"Mr Donaldson," the gentleman said, my dad replied, "Hello Stevie".
Stevie turned to me and said, "You must be Martin? Pleased to meet you. I am Stevie Chalmers."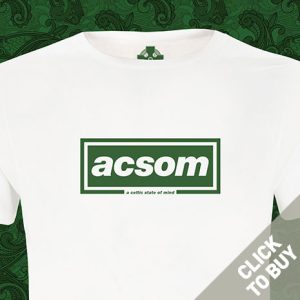 Walking through the corridors and rooms of the main stand, we were led out the tunnel to views of the famous jungle on the opposite side of the pitch. My dad snapped a few pictures of me sitting in the Celtic dugout and stopped for a quick chat pitch-side with our host before heading back into the club trophy room and players lounge where we were joined by Neilly Mochan.
Neilly and Stevie told me all about the trophies on display, swapping stories about the Empire Exhibition Cup and the Coronation Cup. There was also time to talk about the huge matches that both of them had played and scored in 10 years apart. Neilly shared details of his goal in the 7-1 demolition of Rangers in the 1957 League Cup final, then Stevie spoke about the victory in Lisbon and his winning goal against Inter Milan that secured the European Cup for Celtic.
We moved into a room at the top of the tunnel, the floor had a huge Celtic Crest in the middle and all around the walls were the pennants of some of the clubs Celtic had played in European competition over the years. One wall was dedicated to the Lisbon Lions campaign in 1967 in which Stevie played in all 9 matches, scoring 5 times.
Stevie will always be a hero of mine, not only because of the goal in Lisbon and his breathtaking scoring record for Celtic, but more for how he – a man who achieved so much – took the time to give me a personal insight into his life as a Celtic player.
Stevie Chalmers may have scored the most important goal in the history of Celtic Football Club, but he remained humble with his achievements and took great pride in representing Celtic in many different ways as player, employee and ambassador.
Martin Donaldson
Listen to the award-winning A Celtic State of Mind podcast