Daniel Fergus McGrain is quite rightly known as Celtic's greatest ever full-back. Comfortable on both sides, especially for Scotland, his starting position at Celtic was right-back.
 
Traditionally wearing the No. 2 jersey, the right-back position has advanced throughout the years with modern day right backs having far less of an emphasis on defending and more about creating opportunities for the team. A great example of this is young Alexander-Arnold at Liverpool, whilst defensively sound, his main aim is to flood the right wing and provide crosses for the front three.
 
Celtic have had a plethora of great players in the right-back position, but only a few could be known as cult heroes – not the best in their position, but that player who you remember for years to come because of that one season or that one performance that rightly puts their name in the history books.
 
So here we go with the ASCOM team's picks for Celtic's cult hero right-back – which player is your choice or who have we missed out? Let us know!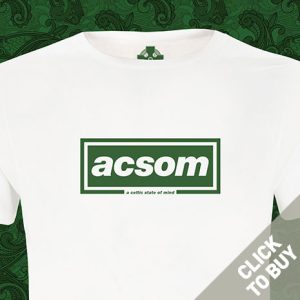 Colin Watt
 
Player – Jean Joel Perrier-Doumbe
Signed From – Rennes (Free – 2007)
Appearances – 6 appearances – 1 goal
 
Cult Hero Moment – Signed on loan initially from Rennes as cover to Mark Wilson, Perrier-Doumbe struggled to make his breakthrough into the Celtic team with Gary Caldwell often being preferred to the Cameroonian at right-back. However, in the 2007 Scottish Cup final (Neil Lennon's last competitive appearance for Celtic) Gordon Strachan decided to make a change and Perrier-Doumbe started. With five minutes remaining, he slotted home from Craig Beattie's deflected cross to score his only professional career goal and secure the double for Strachan's side. His career with Celtic ended after a horror injury in the Champions League against AC Milan but his cult hero status lives on forever.
Stephen Cameron
 
Player – Enrico Annoni
Signed From – Roma (£300k – 1997)
Appearances – 50 appearances – 0 goals
 
Cult Hero Moment – "Aw naw, no Annoni on anaw noo!" Famous words you might have heard inside Parkhead during Enrico Annoni's spell at Celtic between 1997 and 1999. Despite this, Annoni's time at Celtic was relatively successful… in fact, the right-back played a key role in the team that stopped the 10. The Italian may be most fondly remembered for a surprisingly disciplined man-marking assignment which shackled Brian Laudrup in the critical New Year's derby win against Rangers in 1998, and also for his exuberant celebrations after the League Cup final win two months earlier. Unfancied under Venglos and having to return to Italy to help with his sick father, Annoni's contract was torn up during the Barnes/Dalglish reign but to this day Annoni still proclaims: "Celtic will always remain in my heart. I am proud and happy to have worn these colours".
 
Paul John Dykes
 
Player – Rudi Vata
Signed From – Dinamo Tirana (Free – 1992)
Appearances – 56 appearances – 4 goals
 
Cult Hero Moment – In the summer of 1992, Liam Brady signed Rudi Vata, a 23-year-old who became the first Albanian to play for a British team. Despite not being blessed with vast amounts of talent, and making only sparse appearances, Vata is a name who will haunt Rangers fans even to this day. In May 1995, he rattled home a 30-yard free-kick in a 3-0 victory over the Ibrox side and then, in 1996, when he was set to leave the club, Celtic decided to delay his departure. Why did this affect Rangers you might ask? Well, at the time the Premier Division as it was, had only 12 available work permits for clubs within the league and Rangers were linked with Brazilian wonderkid Jardel from Gremio. Unfortunately, they could not proceed with their initial interest due to all available work permits being used and Jardel signed for Porto instead. Days later, Vata was released from Celtic and the conspiracy theories live on to this day!
Declan McConville
 
Player – Andreas Hinkel
Signed From – Sevilla (£1.9m – 2008)
Appearances – 101 Appearances – 1 goal
 
Cult Hero Moment – Signed from Sevilla in 2008 after failing to dislodge Dani Alves from the side, Hinkel proved immediately popular amongst the Celtic support. Despite his lack of goals (only one, against Hearts), his performances down the right side had many believing he may get a call up for Germany's 2010 World Cup squad. This wasn't to be and this led to what he may be most remembered for, which is when Hinkel went on German TV and sang some German country & western song in the street for a local show, which was a bit surreal if you ever watch the video. Hinkel appears in the Scottish media now and again and has never a bad word to say about the Bhoys – one of the good guys!
Listen to the award-winning A Celtic State of Mind podcast