There will be no changing of the guard any time soon. No removal of Scottish football's lynchpin from his hundred mile-high pedestal. Pretenders to his throne haven't even earned the position of clown prince – they will have to earn the right to lace his boots before they can fill them. He is the country's ultimate midfield dynamo and captain fantastic… the ringleader of the tormentors.
His name adorned the hoops in gold leaf during Celtic's double treble-winning season, and it is through a golden haze that today's Celtic supporters will look back on the life and times of Scott Brown.
Those who bemoan the lack of Scottish football 'hard men' in one breath seem happy to decry the quality of our game in the next. Brown's performances, particularly in two-and-a-half campaigns under Brendan Rodgers, unequivocally demonstrated that he is infinitely more than Celtic's on-call clubber. That description is lazy journalism, petulant Leveinism, and does the player a massive disservice.
Many have vowed to go toe-to-toe with Celtic's midfield general over the years. English football's soi-disant philosopher, Joey Barton, was rendered a rudderless, empty vessel after a single steely-eyed stare from Brown. The one-cap wonder was last seen twitching periodically, whilst scuttling out of Auchenhowie clutching on to a Dolce Gusto.
Before him there was the bloviating challenge of sneering, spitting, Senegalese El Hadji Diouf. This article (copyright: Phil Differ, 2017) had the audacity to return to Celtic Park having once grogged on one of Brown's fellow Fife natives during a match between Celtic and Liverpool. The death of this circus was swift, and it gave birth to Celtic's very own Cristo Redentor.
'The Broony' – as Celtic fans prefer to call it – and his more recent Pittodrie swagger have only served to endear the player even further into the hearts of a fan base that he wasn't part of as a youngster. Word around family and friends in Inverkeithing and Dalgety Bay is that he was a bonafide Hibbee in his younger days.
A former Leith lodger of then Hibs' team-mate Kevin Thomson – a rambunctious affair by all accounts – Brown was part of a generation when every Easter Road egg that was laid had a golden hue. The list is startling: Derek Riordan, Steven Fletcher, Garry O'Connor, Steven Whittaker, and the aforementioned Thomson. Yet, Brown has gone on to win far more international caps and trophies than any of his impressive list of contemporaries.
On the subject of honours won, anyone with a suspicion that the author of this piece is intoxicated with hagiography, should take a glance at Brown's personal roll-call: 18 major domestic gongs (one with Hibs); 55 international caps; over 500 appearances for Celtic (including most European games for the club); second only to Billy McNeill in the list of most trophies won as Celtic captain; and only the second Celtic captain to lead his team to seven consecutive league titles.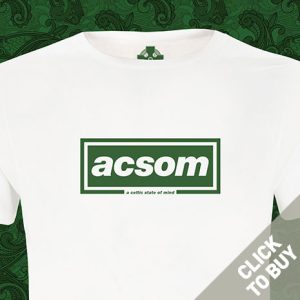 If Brown's two seasons with Ronnie Deila will be harshly remembered for kebab-gate, then his subsequent two years under the tutelage of Brendan Rodgers had the hint of 'abrakebabra' about them.
Rodgers hailed his on-field colonel as, "a remarkable leader," and this was never more evident one year ago in the Glasgow Derby at Ibrox. The requiem writers, those ravenous few who continue to write-off Scott Brown, should look back at the footage of his focussed gaze during Celtic's pre-match huddle that afternoon. Hanging on every word, his team-mates implicitly trusted their leader, who done more than most to ensure that the club recaptured their rapture following Ronny Deila's departure. No-one in Scotland inspires and influences his onfield compatriots as much as Brown.
At 2-1 down against Rangers, observe Brown's crucial pass to Dembélé that dragged his side back on level terms for the second time in the game. If the same through-ball was screened on Match of the Day, the commentators would benchmark it with all the superlatives it deserved. In the week following this performance, I heard Brown's assist being described by one of our own hacks as a "punt".
Before Šimunović had even left the field of play following his sending-off, notice how Brendan Rodgers swiftly and succinctly instructed his captain. Brown's overall performance was demonstrative of a man at the peak of his powers.
After the final whistle, his embrace with captain's apprentice, Kieran Tierney, was followed by another iconic Brown moment when he adorned a pair of shades, which had been thrown from the crowd as he celebrated in front of the Broomloan Stand. In summing up the noise being generated from Ibrox in the week leading up to this victory, Brown retorted, "We usually do our talking on the Park."
The Hoops' captain continued to do his talking on the field of play throughout 2017/18, while leading his side to a historic double treble. The day after Celtic's comfortable Scottish Cup win against Motherwell, Scott Brown enjoyed what is a real rarity in this modern age at the football club – a testimonial match.
Brown's Testimonial season was as momentous as the current campaign has been turbulent. Speculation was rife near the tail-end of 2018 that the captain's twelfth season would be his swansong, but a two-year contract extension was finally signed in January, less than a month before the shock departure of Brendan Rodgers to Leicester City.
In the four games since Neil Lennon returned to the Celtic Park helm, no player has done more than Scott Brown to ensure that the new gaffer has remained unbeaten. With the third Glasgow Derby of the season on the horizon, the image of yet another pretender to the throne will undoubtedly be fresh in Brown's memory. A sneering Scott Arfield mimicked 'The Broony' back in December, as an unfit and off-the-pace Brown ended up on the losing side to give at least one Rangers player the best day of his life.
Three months on from that lacklustre display at Ibrox, Celtic have lost arguably their greatest modern-day manager in a development that threatened to derail their quest for a third consecutive treble. Despite Rodgers' fait accompli, the club are still winning their way into the history books, while their nearest rivals languish ten points adrift in the league, having exited every other tournament they have participated in.
Neil Lennon's sacred mission over the next two months is to guide his side out of Rodgers' shadow and on to another treble. If he is able to turn a season of transfer-window bathos, strikes and walkouts into another of domestic dominance, then it may well be the sweetest clean sweep of them all.
Paul John Dykes
Listen to the award-winning A Celtic State of Mind podcast