As the final whistle went on our European hopes and dreams for another season, the Celtic support based high in the steep stands of the Mestalla and dotted all around the ground, stood, to a man, to applaud the players' effort.
Not one had left anything in the dressing room. Some had better nights than others but that's the nature of a team game. It wasn't a night to doubt effort and commitment but a night to be impressed by the heart of the side.
The job we had to do was as steep as the Mestalla stands. A price paid after a poor first leg where once again we failed to perform. The same as the game against AEK Athens. Two teams that were beatable when looking back at the games with the squad we have.
For the second season, we have gone out at the last 32 stages of the Europa League. Is the climb to the next level as tough as the climb to an away end on the east coast of the Iberian Peninsula?
Brendan Rodgers thought so. Under a week later he was in the directors' box at the King Power Stadium. He has a point, to a point. The current model has reached a ceiling, which sees our wage outlay at historic levels and dependent on the Champions League. Our qualifying for that is planning and performance-based. We struggle with both.
For the tie against Valencia, we were missing players who have heavily contributed to our successes. Leigh Griffiths, Kieran Tierney, Tom Rogic and Olivier Ntcham were all unavailable for selection. Add Filip Benkovic to that list, a player that most were willing to pay a record transfer fee for before his injury in December.
There is no argument that with those missing players and if some loan players who were signed in late August and January were available for the qualifiers we played this summer, then the thought of going out to AEK Athens would be distant.
We had a bad summer, which got worse as we had a Moussa Dembele-sized hole by the end of August. That hole still needs the money spent on it.
We also lost Stuart Armstrong and Paddy Roberts. Imagine we kept them and signed Benkovic and went in with that squad to the qualifiers in August? Would that have been a sign of massive European ambition, on the back of spending a reported £9m on Odsonne Edouard?
The squad would have to be built at a cost. Benkovic, to sign permanently, would cost north of £10m. To sign Roberts would have cost between £5m to £10m, on top of the money already spent on Édouard. Then we would have to have given Dedryck Boyata and Dembélé new improved contracts. The wage bill would burst and that is before thinking about January deals for Oliver Burke and Timo Weah, where you could easily add another £20m plus in transfer fees. A massive outlay not needed to win the Scottish league and not prudent to even just qualify for the Champions League.
On paper, you would have to think that squad was better than the last 32 of the Europa League? That imaginary August squad and the squad we did have available at the time is better than AEK Athens. Would it have qualified for the Champions League? Yes, but only if it didn't have an off night.
Martin O'Neill once said that his side, blessed with Henrik Larsson, Neil Lennon and other unquestionable talents, couldn't afford to have an off night at European level. A team packed with all that quality would be found out if they weren't on their game. Over a decade on, this is even more so the case.
Topsides in Europe can have an off night and still remain in ties. Having a middling performance doesn't see the collapse of their dreams. If you look at Liverpool under Jurgen Klopp you see steady progress. In the beginning, they had to play 'heavy metal' football and tackle games like a runaway roller coaster to win. There was no middle ground.
They have improved the base talent level of the squad. They play in a competitive attractive league and have invested heavily in elite level players. That's how they have improved.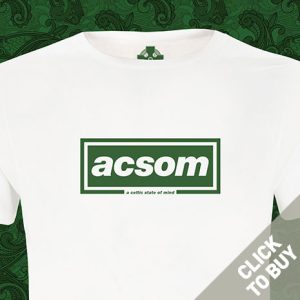 Celtic can't invest in elite-level players to improve, so we have to develop players that increase our base talent level. At the moment our base-level talent needs to give us eight or nine out of ten performances for us to get a result. Jonny Hayes, against Valencia, had the game of his life. It is unimaginable that he could produce that level of performance against that level of opposition every time.
Callum McGregor and Scott Brown had off nights in the game at Celtic Park unlike the previous season against Zenit when both were outstanding and the scoreline didn't reflect our performance.
Martin O'Neill, Gordon Strachan and Neil Lennon got regular performances at home. Only O'Neill's squad showed a superior level of base-talent, but with the same failings on our travels. As the quality of the squad decreased, our expectations should have as well, but both, Strachan, and Lennon managed to keep those expectations high by getting their teams to perform well and be more than a sum of their parts. If going on purely European results then Strachan and Lennon had far better squads than the current one but opinion is not just results-based.
When you look at the squads for both games, AEK Athens and Valencia, it's difficult not to argue that they were good enough for both ties, with the benefit of hindsight, and the performance of our opponents in the two ties.
Having Dedryck Boyata and Moussa Dembélé available against Athens would have made a difference. Dembele spooked the untroubled Athens rear guard when he came on in the second leg. Having Tierney and Benkovic would have strengthened our defence and Tom Rogic would have given us a more creative option against Valencia.
Our chances would have improved if we had the missing the players but we still would have needed to be at our best. Our base-talent pool isn't good enough for an off night and this fact was plain to see after Ajax went to Madrid and Juventus and outplayed them both.
As the travelling, Ajax fans celebrated in Spain and then Italy the question was why Scottish teams, mainly Celtic, couldn't be like Ajax, when the question actually ignored the simple reasons why.
It's true Celtic spent more on wages than Ajax last season. Celtic qualified for the Champions League and won a treble triggering bonus payments that have inflated the wage bill. Ajax wage bill was £12m lower than Celtic's during a season with no success and a smaller squad. Ajax wage bill is 18m Euros larger than anyone else in the Dutch league. Both clubs wage bills are too high for their domestic circumstances.
You then have the fact that the Eredivisie is a better a league than the Scottish Premiership. This fabulous Ajax side hasn't won a trophy for 4 seasons, a spell where they were losing finalists in the Europa League.
So, you have a team that can compete in Europe who are not the dominant team in their own country. Eredivisie has the strength and depth that we can only admire.
The Dutch have produced better footballers, on mass, than Scotland since the mid-1960s. If you produce better footballers then they fetch higher transfer fees when the bigger leagues come calling. In the last two seasons Ajax have gained over 100m Euros in transfer fees. This figure will be dwarfed this summer as their exciting side is picked off.
That makes spending over 40m Euros this season easier despite it being a vast overspend when compared to their domestic rivals. That you bring in more money means that, if needed, you can spend more money. Ajax have done this consistently over the last few years without improving their domestic success.
So, while Ajax face the same small league problems we do where players move quickly for riches to the bigger leagues, they have massive advantages over Celtic. Mainly, they produce better base-level, talented footballers, who they sell for more money. And they play in a better league.
Until one of the above happens we are always going to be inconsistent in Europe and feel that we should be doing better. But comparing us to Ajax is like comparing night to day.
Kevin Graham
Listen to the award-winning A Celtic State of Mind podcast