It happened well before Ryan Kent equalised in the 63rd minute. Scott Sinclair had missed a chance to put us two-nil ahead and that might have changed the feel of the game. The feeling was similar to our last home game against Aberdeen. A highly charged atmosphere gradually lost its air like a tyre with a slow puncture. A comfortable performance was becoming flat and listless. No matter how poor the opposition, if you give them hope they will take it.
The crowd against both Aberdeen and Rangers became quiet. We fidgeted in our seats hoping that we could turn it round. Not believing but hoping as the subs for various reasons seemed to make us weaker. Doubts clouded the previously clear blue sky that was painted by Brendan Rodgers. Doubts that have been there since the exit button was pressed … and I am damaged by it.
There was a point against Rangers when I truly believed that all our nightmares where going to come true. Losing that game from the position we were in at half time could have triggered a set of events that ended in a disaster to end all disasters. Against Hearts and Dundee there was points when I wondered if this was it. This was the moment that the champion goes down and dies. That one punch too many that so many champions take before they realize the game is up. It's a fear that I will carry for the remainder of the season until everything is decided.
My fear, and I was ridiculed for it, was that Brendan Rodgers leaving would trigger a Judas moment that would set us back years. A hammer blow to end all hammer blows and our dominance ended.
That's why I have celebrated the wins like they mean the world. That's why when James Forrest scored; I was on the staircase running up and down hugging friends in the same section of the North Stand Upper as me, getting two scratches on my head, which look like I have fallen into some sort of celebratory bush. I'm on a heightened state of alert with nerves pulsing like electric shocks being administered to my chest by some first aider who isn't trained.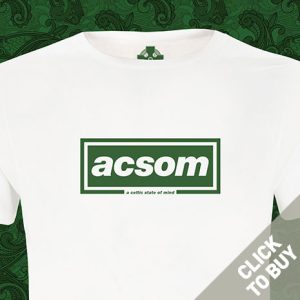 I don't fear losing. Losing is part and parcel of the game and if you fear losing then you should take up another pastime. I know that there will be a time when we will lose a league title and a cup. The cup may happen in a couple of weeks or at the end of May. How the club reacts to these events is more important than these events happening but the thought of losing this league title is unthinkable. It would be even worse than losing it next season or the season after.
That is why Brendan Rodgers is living in my head rent free. He is there using my heating, watching my telly and eating food from my fridge. His big white teeth light up the dark corners of my mind. Everything we do now has his spectre hanging over it.
Neil Lennon has an impossible job and I understand why he has been cautious in and around the players. His job is to see us over the line and manage a psychologically damaged squad. He is now talking about changing things to become more of him. Maybe that's what I need to evict Brendan from my mind. But as I watch games I still think; what would Rodgers do?
I said after the game on Sunday that if Rodgers was still in the dugout and the game panned out the way it did then we would have won the game four or five nil as the doubt we showed wouldn't have been there. The ghost of Rodgers moves the magnets on the whiteboard as I watch.
I shouldn't be thinking that way. I should have moved on. Lennon has extended our lead in the league, got us to the semi-final of the cup, but I have a lyric of a famous James song rattling round my head; 'If I hadn't seen such riches I could live with being poor.'
It feels like a friend has moved in whilst waiting on his divorce to finalise and every match day we go to see his kids who are calling someone else 'Dad'. I need a performance or a decision that sees Brendan leave his set of keys for my mind on the table next to the door, and moves out.
Kevin Graham
Listen to the award-winning A Celtic State of Mind podcast