On behalf of everyone at 'A Celtic State of Mind' we would like to congratulate and wish Jim Craig the very best in his new role as Club Ambassador.
As a dental student at Glasgow University, after being scouted by Joe Connor, Jim Craig first arrived at Celtic Park as an amateur in 1961 which allowed him to train and play matches as well as keeping his dentistry studies constant. Due to the ever increasing pressure of his studies at university, it became more difficult for Jim to continue to play football regularly. But he managed to keep himself fit and was eventually signed by Celtic in January 1965 under the great Jimmy McGrory, just before the arrival of Jock Stein.
After beginning the season of 1965/66 in the reserve team, he was handed his first-team debut against Go Ahead Deventer on the 7 October 1965. The team that played on that evening was; Simpson, Craig, Gemmell, Murdoch, McNeill, Clark, Johnstone, Gallagher, Chalmers, Lennox and Hughes. This would be the first time that the 'Lisbon defence' would take to the field together.
It would not be until November that Jim would return to the first-team and compete with Ian Young for the rest of the season for the right-back position. During that season there was a lot of fantastic highlights for Celtic under the guidance of Jock Stein, with the club defeating Rangers 5-1 at New Year, reaching the semi-final of the European Cup Winners' Cup and, not forgetting the first league championship win in 12 years at Fir Park.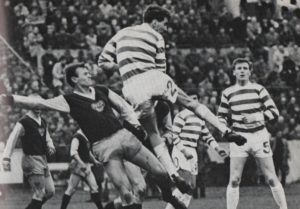 The season which would follow this was nothing short of remarkable and would inevitably be the pinnacle of Jim's Celtic career. During season 1966/67 he played 28 times for Celtic and featured in the greatest match of all in the sun-drenched heat of Lisbon on 25 May 1967. However, after just seven minutes, the referee was conned and Internazionale were awarded a penalty-kick with Jim being adjudged to have fouled Renato Cappellini. To this day Jim will still tell you, "It was never a penalty!" As the match went on, he soon made up for his indiscretion as he put a perfect pass along the 18-yard line for Tommy Gemmell to pull Celtic level. As they say the rest is history…
The magic didn't just stop there as upon his return to Glasgow he would meet his future wife Elisabeth, whom both recently celebrated 50 years of marriage together.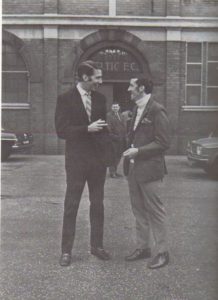 He continued to feature regularly for Celtic during the club's golden years right up until he left the club in 1972 after defeating Hibernian 6-1 in the Scottish Cup final. His achievements speak volumes as he won a tremendous 7 League Championships, 4 Scottish Cups, 4 League Cups and 1 European Cup. During his time at the club, he scored six goals with the pick of them coming against French champions Saint-Etienne during the first round of the European Cup in 1968.
On a personal note it has been an absolute honour and privilege to have spent time in the company of Jim celebrating the 50th Anniversary of Lisbon, Celtic Graves Society Events and the unveiling of Bobby Lennox's statue. I can also thank the Lisbon Lion for making me change my hairstyle after very kindly nicknaming me 'the crewcut boy' at an event at Celtic Park.
As I continue to move through university, he has been extremely supportive and kept me in line telling me to get studying, but always asking how the course is going (with Jim also being a distinguished journalist).
He is a fantastic advocate of Celtic and is a first-class raconteur on the club's history. Jim is a character that will always be happy to stop for a quick chat or photograph and remains a very popular figure at the club to this day. Like his fellow Lisbon Lions, he commands huge respect from the Celtic support all across the world and has represented the club with distinction from Australia to America.
Jim was part of a group of 16 players who didn't just change British or European football, but changed people's lives. They say you shouldn't meet your heroes but none of these men have ever disappointed. He has achieved it all during his career but above all continues to remain a thoroughly humble and decent gentleman, who has always represented Celtic with honour and distinction.
Declan McConville
Listen to the award-winning A Celtic State of Mind podcast