As of writing this (26 March 2019) it has been exactly one month since the lure of the silver dragged a man from his "dream job" to mid-table mediocrity in the so-called 'Greatest League in the World'.
Reliable Neil Lennon stepped into the Parkhead hotseat and, though supporters may say performances haven't been great, he has steadied the ship and guided Celtic to a Scottish Cup semi-final and extended the lead over the team from Govan to 10 points.
 
Many will say that Lennon's first main challenge will be this Sunday in his first Glasgow derby match in seven years. Indeed Lennon's team won the last derby match he was in charge of, a 3-0 victory at Celtic Park, where Kris Commons had impeccable timing to score his only goal that season. The question being asked here though is when does Lennon become the man for the permanent post at Celtic? If he wins the two games against Rangers? If he wins the league? The 'treble treble'? Or, simply put, does it matter what he does, will he even have a chance of the post?
 
Bookmakers will tell you that Lennon is the current favourite for the job with prices ranging from odds-on to evens, which realistically makes sense. In any other position, a caretaker who leads a team to three wins and a draw in his first four games in charge would be highly considered for the position. Take a look at Ole Gunnar Solskjær at Manchester United, a club legend who has steadied the ship left behind by Mourinho and led the side to 14 wins out of 19, including that incredible comeback against PSG. He is reportedly to be announced permanently this week and most United fans are delighted.
When Lennon first took over, after the disastrous reign of Tony Mowbray, Celtic fans were promised that the club would bring back the thunder and make the fans proud of the team. Things didn't start great and many fans will agree that Lennon's turning point was not only recovering from 3-0 down at Rugby Park but also 28 December 2011 when Joe Ledley fired a header home to win the derby match at Celtic Park.
 
Celtic went into November 2011, 15 points behind Rangers, albeit with two games in hand. A run of eight straight victories, coupled with Rangers dropping points at Rugby Park, New St Mirren Park and at home to St Johnstone meant that Ledley's header put Celtic on course for their first title in four years and indeed bringing back the thunder within Celtic Park.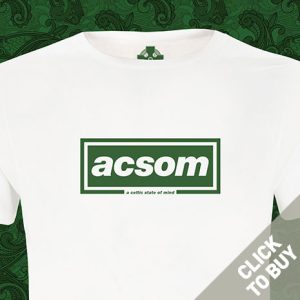 For an increasing majority of Celtic fans, though, memories of turgid performances in the league, terrible results at Hampden and questionable signings, (Olivier Kapo anyone?) give the opinion that Lennon might not be the man to lead Celtic in the charge towards nine-in-a-row.
 
Who are the other contenders then?
Bookmakers have some of the usual names who have appeared the last few times the job has become available: David Moyes, Roy Keane, Paul Lambert etc. Interestingly, though, some of the new names this time could and should bring excitement to Celtic fans. Names like Roberto Martinez, Marco Rose and David Wagner offer a European option for Celtic, whereas Alex Neil, Chris Coleman and Derek McInness (yep, me neither) show that there is a range of options for Peter Lawwell and Dermot Desmond to choose from.
 
Each manager will have pros and cons towards their appointment and the clamour for a 'big name' manager to follow on from (he who shan't be named) is to be expected. Celtic are going through a period of unrivalled success in Scotland and the opportunity to become a club legend will appeal to managers from a wide range. This appointment is absolutely crucial, as crucial as the appointment of Wim Jansen back in 1997. This is the man that will attempt to guide Celtic to not only nine, but potentially a record 10-in-a-row. If Celtic were to go down the route of appointing a 2019 Wim Jansen who would that be?
 
Jansen took over the club in July 1997 after the controversial sacking of the late, great Tommy Burns. Before that, Jansen had worked in Feyenoord's youth system from '82-'87 before leaving to manage SC Lokeren for a season alongside Polish footballing legend Włodzimierz Lubański in a season where Lokeren avoided relegation by only one point. Jansen then returned to his homeland in 1988 to become technical director of rescued football team Schiedamse Voetbal Vereniging or SVV for short. Jansen would be technical director to a young Dick Advocaat who had joined the club from HFC Haarlem. Under the pair's reign, SVV gained promotion to the Eredevisie, winning the Ereste Divisie in 1990. Jansen was then lured back to Feyenoord where he would find success, winning two KNVB Cups and guiding the young career of an unknown Swedish striker… Henrik something? Wonder what happened to him? Spells with the Saudi Arabian national team as assistant manager and then Sanfreece Hiroshima in Japan followed before finally arriving in Glasgow in 1997.
 
Celtic were desperate for an experienced manager to stop Rangers from becoming the first Scottish team to win (or cheat) 10 league titles in-a-row. Instead, the relatively unknown Jansen lifted the title with some clever signings such as Stephane Mahe from Stade Rennes, Paul Lambert from Borussia Dortmund and this Larsson chap from Feyenoord, showing Jansen's knowledge of the European market competing on a fraction of the budget of the side from Govan.
This time around the new manager won't be competing money-wise with that team but instead in a competitive market where it is becoming harder to lure players to Scottish football. With sums of 50k, 60k and more being available to potential Celtic targets in England it becomes even more important for managers to have the knowledge to pick up bargains like Virgil van Dijk or Victor Wanyama. A lot of that will be down to the recruitment team but having a manager with some knowledge of that market will also help.
 
Marco Rose of Salzburg has transformed his team into a force within European football, Europa League semi-finalists in 2018, however crashing out at the last 16 stage this season. Has he taken them as far as he can?
Jindrich Tripsovsky has this season led Slavia Prague to wins over Sevilla, Genk and Zenit St Petersburg, whilst leading Slavia to a nine-point lead in the Czech league.
Or perhaps Ivan Leko of Club Brugge, a side who managed a victory over Rose's Salzburg and lifted the Belgian title last season, could be a possibility?
All of these candidates could be seen to be examples of a 2019 Wim Jansen, fairly unknown to the majority of the fans but all with an impressive CV who could be, on paper, a massive success at Celtic
 
So then, who? Who will lead Celtic to title number nine and hopefully 10? It's really not an easy decision, this will be a decision looked at as the reason why Celtic do or do not create history. Are the options like Moyes, Keane, Lambert – people with Celtic blood but not necessarily a great track record – really options we should consider? Is Lennon's past experience in the hotseat a good enough basis to land the job full time? Or is the 2019 Wim Jansen out there in the form of a Ivan Lenko or a Marco Rose?
Simply put Celtic have to get this decision right otherwise the chapters unwritted in the history books could simply say, Thank you… next?
Colin Watt
Listen to the award-winning A Celtic State of Mind podcast