Following one of the most memorable weekend's in Celtic's history, we finally complete our Cult Hero XI by debating what could be the biggest point of contention we have encountered to date in this series – who plays upfront?
As well as the healthy discussion that has enraged online – from the definition of a 'Cult Hero', to fans' favourites being overlooked – there has also been some incredible moments of Celtic history shared both in these articles and within the responses online…
We've had Enrico Annoni celebrating, via Twitter, his inclusion within the side; a bonus poll to include Stéphane Mahé at left-back (fan power toppled the writers' nominations); and ongoing debates over players' best positions (we had to retrieve direct quotes from Mike Galloway to prove that he regularly played centre-half under Liam Brady).
 
Before we select the final player, I would like to thank everyone for their input over the last two weeks, I've had some great conversations with some of you online and look forward to bringing you more content throughout the year!
 
Here is the line-up as it stands:
1. Artur Boruc
2. Enrico Annoni
3. Stéphane Mahé
4. Bobo Balde
5. Ramon Vega
6. Lubo Moravcik
7. Shunsuke Nakamura
8. John Collins
9. Frank McAvennie
10. Paddy McCourt
11. ???
 
Colin Watt completes this series by looking at the ASCOM team's picks for Celtic's Cult Hero Striker… Who have we missed out? Let us know!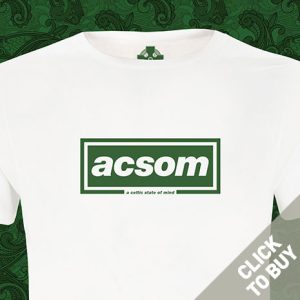 Colin Watt's Cult Hero – Harald Brattbakk
Signed From – Rosenborg (£2m – 1997)
Appearances – 58 appearances – 20 goals
 
Cult Hero Status – Norwegian striker, Harald Brattbakk, will always hold a place in Celtic hearts after scoring the goal that guaranteed Celtic stopped Rangers from securing a record 10 league championship in-a-row.
Harald arrived in Glasgow in December 1997 from Norwegian champions Rosenborg with a reputation as a lethal striker with an impressive domestic and European scoring record. However, once in Scotland, he soon earned a name as a penalty box blunderer rather than plunderer as he proceeded to spurn goal scoring chance after glorious chance.
At times, his glaring misses in front of goal verged on the comical and, unfortunately, he quickly became a figure of fun for the press and media. Despite misfiring so spectacularly in front of goal, it was impossible to feel any animosity towards a player who was so clearly hard-working, honest and an all-round good guy.
As previously mentioned, scoring the goal to stop Rangers winning 10 in-a-row is a moment that will go down in Celtic history forever. McNamara fired in a wicked low cross from the right-wing and, with the Saints' defence motionless, Brattbakk rushed in to strike the ball home from close range. Bedlam. Harald's goal kick-started the party to end all parties and the man so often seen as the villain was now the hero.
One-in-a-row league titles had never felt so sweet, and Bratbakk wrote his name into the Cult Hero Chronicles.
 
Stephen Cameron's Cult Hero – Georgios Samaras
Signed From – Man City (Loan initially, £2m 2008)
Appearances – 248 Appearances – 74 goals
 
Cult Hero Status – Samaras, depending on which Celtic fan you speak to, will either go down as an absolute genius or the laziest Celtic player they've seen.
The Greek international signed on loan in January 2008 from Manchester City and, in what was meant to be his first game away to Motherwell, banged his head on the low ceiling within the tunnel area live on TV. Luckily for Sammy, the game was called off due to a waterlogged pitch and he could recover from his stupidity/concussion (Delete where appropriate).
Samaras played a key role in securing the title in 2007/08, scoring some key goals on route to the 'Title for Tommy'. From 2008-2011, Samaras was often an easy target for Celtic fans annoyed at the lack of success the team had, although he often found himself playing out of position on the wing and his confidence was easily dented.
When the 2012 new year came around, it was do-or-die time for Manager, Neil Lennon. A further defeat at this juncture would likely mean the end to the Celtic's challenge for the league title and maybe Lennon's tenure as manager.
In typical Samaras fashion, the forward produced an inspired performance as he netted both goals in the Ne'erday Derby against Rangers at Ibrox as the Hoops secured a vital 2-0 victory.
In 2012/13, he was one of the mainstays of the team. He set a new record for consecutive goals in away matches, and netted pivotal strikes against Helsinki, Helsingborg and Spartak Moscow, which won us matches and valuable points to take us through to the last 16 of the Champions League. He even scored some majestic headers, when in seasons past his heading was seen as a major weakness. He actually produced a very good scoring record in Europe of around a goal every two games or so.
He left Celtic at the end of the 2013/14 season after scoring a penalty against Dundee United in a 3-1 victory, leaving with four league titles, and to quote the man – "I am leaving Celtic but Celtic will never leave me."
 
Paul John Dykes' Cult Hero – Paul Wilson
Signed From – Youths (1967)
Appearances – 214 appearances – 52 goals
 
Cult Hero Status – Quick and elegant, Paul Wilson was a fine player who spent more than a decade with Celtic. He was born in India to a Irish/Scottish father and Dutch/Portugese mother who were working there at the time, but he was brought up in Glasgow, his family having moved there when he was a year old.
On his game, he was a wonderful talent and his pace and ability to beat a man was a joy to watch. He was certainly deserving of the international recognition he received from Scotland in 1975, when he became the only non-white player to be selected by the full Scotland international team during the 20th century.
Paul showed great courage in the Scottish Cup final against Airdrie in 1975, as his mother had died in the lead up to the final. He scored two that day, and, for many, this was the highlight of his time at Celtic, but possibly a touch bittersweet for him.
Paul Wilson could, on occasion, try to over-complicate matters, and consistency was a problem. Because of this tendency to blow hot or cold, he was never the permanent first-team fixture his undoubted talent warranted.
Although Paul may have showed a lack of confidence in himself at times, Jock Stein believed in him and pushed his career, but it was often just below the level he could have reached.
 
Declan McConville's Cult Hero – George McCluskey
Signed From – Youths (1974)
Appearances – 204 Appearances – 78 goals
 
Cult Hero Status – A wonderfully talented forward, Hamilton-born McCluskey combined an elegant first touch with great vision and a thunderous shot, and these talents allowed him to score some truly memorable goals.
He made his debut in October 1975 when he came on as sub and scored as Celtic defeated FC Valur 7-0 in the European Cup Winners' Cup at Parkhead. By November, he had played against Boavista in Europe and Rangers at Celtic Park and impressed on both occasions.
In 1978/79, George really came to the fore and scored a vital goal in the 3-1 win over Rangers at Parkhead on 9 September 1978. He was inconsistent but grabbed a vital hat-trick at Links Park against Montrose in the Scottish Cup during Celtic's difficult 4-2 victory. In April he scored a magnificent solo effort against St Mirren, which was the winning goal in Celtic's vital 1-0 win. On this day, relegation-bound Motherwell defeated Rangers 2-0 at Fir Park and the Celts were thrust back into the league race.
In the final league game against Rangers, when Celtic's ten men triumphed against all the odds, George played with great skill and no little courage as all 10 Celtic players ran themselves into the ground after John Doyle's sending off. George scored the second goal and gave the Rangers' defence a torrid time as Celtic ran out winners by 4-2 on an unforgettable night.
George's best season was the 1981/82 season when he scored 25 times. Nicholas and McGarvey both broke legs and George led the Celtic attack with some style and assumed the responsibility placed on him.
In the summer of 1983, a media scrum constantly surrounded Charlie Nicholas and he opted to move to Arsenal. George was thought to be a ready made replacement but his contract was up and he felt Celtic had neglected him in the financial stakes in favour of Nicholas. With that, George moved to Leeds and thus ended his Celtic career. Once again another case of what could have been?
The Cult Hero series is being brought to you by Colin Watt.
Listen to the award-winning A Celtic State of Mind podcast