David Sleight's Penalty Spot blogs will be a regular feature on ACSOM this season. This edition was first published back on 13 May 2019: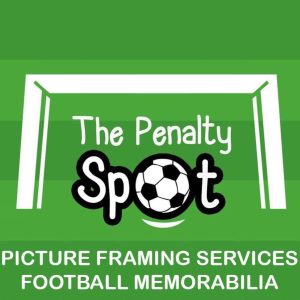 When the Glasgow born Bobby Thomson hit a home run for the New York Giants against the Brooklyn Dodgers in October 1951 to clinch the National League pennant, it was termed "the shot heard round the world".  When, to quote Charlie and the Bhoys, "a shot from Bobby Murdoch was deflected in by Chalmers" six minutes from the end of the European Cup Final some sixteen years later, it might have been termed "the goal heard round the world" such was its significance for Scottish, British and European football.
And so it was a privilege to be at James McGrory Park on "Royston Road" (as Google Maps would have it), home of St Roch's FC, on Saturday as a minute's applause was observed for Stevie Chalmers, a son of the Garngad, in the ninth minute of the game against Irvine Victoria.  By that time, happily, the home side were 3-0 up (they would go on to win 4-1).
I had always been aware of St Roch's but, to be honest, it had never occurred to me to go to a junior game until I read the excellent article by Sean McDonagh on the side they call "The Candy" in the current Alternative View fanzine.
I was identified as a new face pretty much from the moment I paid my six quid and wandered through the gate.  Having purchased a St Roch's scarf and tee shirt from the man with the "merch", I entered the clubhouse behind the goal.  Inside is a giant (perhaps 10 feet high and 15 feet wide) head and shoulders mural of Jimmy McGrory alongside various photographs and memorabilia from the club's storied past.
Supporters approached me and, as well as welcoming me warmly, explained some of the community initiatives underway at James McGrory Park.  The clubhouse provides hot meals for pensioners and others on a weekly basis, including Christmas Day, and is thrown open to kids on Easter Sunday and at other times throughout the year.  Youngsters are encouraged to have a kick about on the pitch at half time.  "At the heart of the community since 1920" says the board outside the ground.  It's spot on.
Put simply, my afternoon watching The Candy was one of the most pleasant, humbling and life affirming I have experienced in some time.  It really is a fabulous club and an excellent alternative source of fitba if Celtic are not in action.  Next season will mark the club's centenary but the last home game of this season is Friday evening (17th May) against Cumbernauld United (kick off 7.15pm). Get yersel along there!
And so to events at Ibrox …
The weather could not have been in greater contrast to the Stygian gloom at Pittodrie the previous weekend (there seemed to have been a run on orange t-shirts as the sun shone on Govan).  Unfortunately, Celtic's performance was also in stark contrast to that witnessed eight days ago and we endured a re-run of December's dismal debacle.
The team selection had me scratching my head before a ball had been kicked.  Was it reasonable and realistic to expect Ollie Burke and Mikey Johnston to hit the ground running when neither had started for several weeks?  Ditto Jerry Toljan who, out of necessity, replaced a limping Mika Lustig at half time.
Ryan Christie's absence becomes more glaring with each week that passes, particularly with Tam Rogic so badly out of touch.  The lack of creativity in midfield is alarming and, with neither Burke nor Johnston able to contribute much from out wide, French Eddy was starved of service.  When he did receive the ball, he invariably had his back to goal – and that's not his game.  It is unacceptable that a goalkeeper who had not played for the thick end of three months and who is not comfortable with the ball at his feet was tested only once and never put under real pressure.
For whatever reason, there were just too many empty jerseys out there.  With Cup Final places up for grabs, I was expecting more. Much more. This will, for sure, have been a result heard round the Celtic boardroom.  I am confident that Lenny and Broony will drag this team over the "Treble Treble" finishing line.  Beyond that I cannot see but, unless there is significant surgery on the squad and a major re-think of our playing style, I guess and fear.
David Sleight
Listen to the award-winning A Celtic State of Mind podcast