Having recently lost our greatest centre-back and captain in Billy McNeill, the central defensive position is one which holds a special place within the Celtic family. When handing out plaudits, being a centre-half is very similar to being a goalkeeper in the sense that making one mistake can lead to your team dropping points; similarly, having a 7 or 8 out of 10 performance can go unnoticed if your side is winning comfortably.
 
Over the next two days we will select a centre-back partnership as we continue with our hunt to select Celtic's Cult Hero XI. So, here we go with day 1 of the ASCOM team's picks for Celtic's Cult Hero centre-back.
Which players have we missed out? Let us know!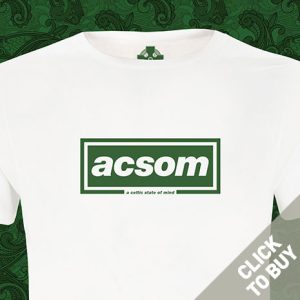 Colin Watt
 
Player – Bobo Balde
Signed From – Toulouse (£1.5m – 2001)
Appearances – 233 appearances – 16 goals
 
Cult Hero Status – A Wikipedia search will tell you that Bobo Balde turned down a 5-year deal from Barcelona to sign for Celtic back in 2001 – that alone is worth an article itself to find out where that myth came from. Bobo was a reliable and daunting figure at the heart of the Celtic defence, terrifying strikers throughout Scotland and Europe whilst establishing himself as a massive fans' favourite. One of the highest earners under Gordon Strachan, the club tried to drive Balde out to reduce the wage bill, but to no avail. Many great performances would cement Balde's position as a cult hero, but one in particular at Tannadice stands out. Balde made his first appearance in 12 months as Celtic beat Dundee United 1-0, which secured Celtic's first away clean sheet in 15 months and a man-of-the-match award for the big man. Even to this day, strikers still yelp when they hear the words, "Bobo's gonnae get yi!"
 
Stephen Cameron
 
Player – Paul Elliott
Signed From – Pisa (£650k – 1989)
Appearances – 66 appearances – 5 goals
 
Cult Hero Status – Arriving from Pisa in the summer of 1989, Elliott unfortunately found himself joining one of the poorest Celtic sides in recent history with only Paul McStay and himself as players with real quality within the side. Elliott often compensated for the lack of quality by trying to play the postions of both centre-halfs, which led to him picking up a number of bookings. However, Elliott will always be fondly remembered for his two goals against Rangers, even though he ended up on the losing side on both occasions. After suffering disgusting racial abuse all over Scotland, Elliott moved to Chelsea in 1991 only to have his career ended by Dean Saunders in 1992. A career cut short but a cult hero remembered forever.
Paul John Dykes
 
Player – Mike Galloway  
Signed From – Hearts (£500k – 1989)
Appearances – 162 appearances – 30 goals
 
Cult Hero Status – A versatile player, Galloway could be deployed anywhere on the park but, for this team, he's playing centre half! A life-long Celtic fan, Galloway was actually a Rangers trainee at the beginning of his career before spells at Halifax, Mansfield and Hearts finally led to his homecoming at Celtic Park. Deployed in a number of positions, many, including himself, felt Galloway was best suited at centre-half from where he scored a spectacular goal in Belgium against Ekeren in the UEFA Cup and followed that up with an even better long-range effort in the 4-1 thrashing of Dundee United on 19 October 1991. Galloway's career was cut short in 1995 with a terrible car crash, however he is back coaching in and around Scotland after a long battle with alcoholism. A Celtic man through and through and great contender for the Cult XI.
 
Declan McConville
 
Player – Efe Ambrose
Signed From – Ashdod (Undisclosed – 2012)
Appearances – 168 Appearances – 8 goals
 
Cult Hero Status – Efe Ambrose 'Ballon d'or' would ring throughout the stands at Celtic Park for a player who, despite his limited ability, gave his all for the 'Green and White'. After scoring on his debut in a 5-0 victory over St Mirren, the acrobatic display won the fans over very early on. A solid display in the incredible 2-1 victory over Barcelona will go down in Celtic history for years to come, however, the errors – including the mistake away to Red Imps in arguably Celtic's worst ever result – show that Ambrose was erratic at best. Moves to Hibernian and Derby County show there is some quality in Ambrose's play but it's safe to say the 'Ballon d'or' won't grace the Ambrose household anytime in the future.
The Cult Hero series is being brought to you by Colin Watt.
Listen to the award-winning A Celtic State of Mind podcast